Two Harbors Investment Corp.

Two Harbors Investment Corp. (NYSE:TWO) is an internally managed agency mortgage REIT (mREIT). Agency mREITs only purchase government guaranteed mortgages providing them with no real credit risk. TWO also owns a sizeable chunk of mortgage servicing rights (MSRs) as you can see from their asset list below.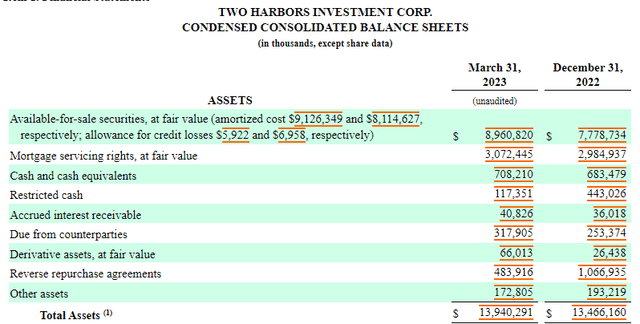 MSRs should be quite stable in the current environment and into the future as their primary risk is mortgage pre-payments. With most people having mortgages way below current mortgage rates, nobody is looking to refinance their mortgage with a new mortgage. Additionally, people are unlikely to move and lose their mortgage unless they have little choice. But of course there will be exceptions.
So while TWO has little credit risk, like all mREITs, they have interest rate risk. With their mortgages, their business model is to borrow short term and use that money to buy mortgages which are normally higher yielding. They also carry significant leverage in order to juice up returns. That is fine when short term rates are lower than long term rates, but with the inverted yield curve we have now, agency mREITs have been in a world of hurt. The 7 agency mREITs have fallen between 35% and 71% over the last 2 years.
Two Harbors Common Stock
There are currently 7 of what I consider to be agency mREITs, but before COVID, some of these were not pure agency mREITs but hybrids. The beat down they experienced during the COVID market crash caused them to change their business model to become pure agency mREITs with Cherry Hill (CHMI) and TWO also having MSR investment. So the 3 year chart below represents the price performance of the 7 mREITs after they were all agency mREITs.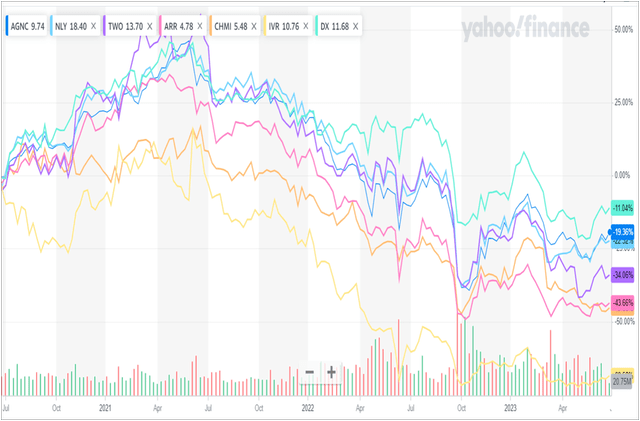 As you can see, TWO was in the middle of the road in terms of stock price performance with DX leading the pack and with IVR, really a very poor performer, trailing the pack. But what is interesting now is that TWO sells at a huge discount relative to AGNC.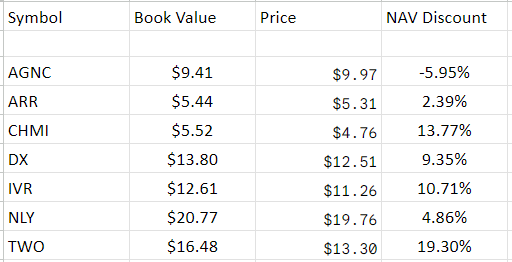 So while AGNC outperformed TWO by 15% over the last 3 years, TWO sells at a 25.25% discount to AGNC, which trades at a premium of 5.95% versus a 19.30% discount to NAV for TWO. While I haven't researched this, as it doesn't matter much to my thesis, if TWO was trading at a premium like AGNC, or even at NAV, TWO's performance relative to AGNC over the last 3 years might not be much different than that of AGNC.
TWO recently cut its dividend which caused the stock price to drop as yield chasers bailed when in reality the value of the company does not change due to a dividend cut. While a pair trade going long TWO and short AGNC might work well, my personal preference is going long TWO and going short ARR. Given that TWO has outperformed ARR over the last 3 years, and would have beaten them even more soundly if TWO traded at the same discount to NAV as ARR, it would seem to make little sense that ARR trades at only a 2.39% discount to book value while TWO trades at a 19.3% discount to book value.
I should add that I don't consider myself an expert in mREITs and don't know how ARR is hedging versus TWO, but it appears that with the Fed likely to continue raising short term rates that TWO's holdings in MSRs could well lead to outperformance over ARR with its 100% investment in the borrowing short and lending long model which looks like it is going to worsen. And I should also add that the book values used in the chart were from the end of the first quarter as I have no access to real time book values for these agency mREITs.
If you are interested in this pair trade, you want to go long the same dollar amount of TWO as you go short ARR, not the same number of shares.
Two Harbor's Bargain Preferred Stocks
TWO has 3 preferred stocks, TWO-A (TWO.PA), TWO-B (TWO.PB), and TWO-C (TWO.PC). All 3 are LIBOR fixed-to-floating rate type preferred stocks. And all 3 are cumulative and qualify as section 199A preferred stocks which makes 20% of their dividends tax free for Americans.
The chart below shows the important numbers for the TWO preferred stocks and how they fare relative to similar agency MREIT preferred stocks.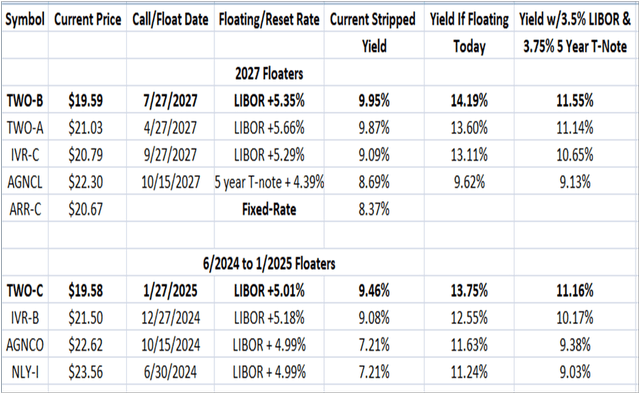 The top 4 (plus fixed-rate ARR) are separated because they aren't callable until 2027 and thus will not float until sometime in 2027 if they are not called. Let's examine those first.
2027 Floaters
As you can see, TWO.PB has the best current yield, not just among the 2027 floaters, but among all agency mREIT preferred stocks that are yet to float. Additionally, if TWO-B floated at today's interest rates, its 14.19% yield would clearly be the highest yielder in the sector, and this yield also handily beats all preferred stocks that already float – like NLY-F, NLY-G and AGNCN. And as you can see, the TWO-B provides much superior yields, whether currently or in the future, versus the larger cap AGNC and NLY preferred stocks. I will discuss later why I believe TWO preferreds should trade much closer to AGNC and NLY preferred stock yields making TWO preferreds quite undervalued currently. But even against IVR.PC, TWO-B is much better despite IVR being the worst performing agency mREIT. This makes no sense to me and clearly shows that TWO-B is quite relatively undervalued compared with IVR-C.
The rightmost column is my guesstimation as to where interest rates will settle going out 1.5 to 2.5 years. I assume that LIBOR will be more like 3.5% with the 5 year T-note more like 3.75%. Of course others may have very different ideas of where future rates will be.
As you can see, even in a lower rate environment (the right column), when TWO-B floats it will still have a yield of 11.55% which will look super good in a lower rate environment and I would expect its price to be significantly higher in the future.
But because the floating rate is 4 years off, TWO-B may be more akin to a fixed-rate preferred right now with long term interest rate protection. If compared to agency mREIT fixed-rate preferred stock ARR.PC, TWO-B is world's better with a 9.95% current yield versus only 8.37% for ARR.PA. A swap out of ARR.PC to TWO-B is highly recommended.
Agency Preferred Stocks That Float in 1 to 1.5 Years
If you are looking for an mREIT preferred stock that will float within 1 to 1.5 years, TWO.PC has the best metrics –best current yield, best floating yield and the biggest discount from par giving it the most capital gain potential. Again, TWO-C is much superior to AGNCO and NLY-I as people are discounting TWO preferreds unfairly in my opinion.
If we compare TWO-C to NLY-I, we see that although they have almost an identical floating rate formula, TWO-C sells at price that is a huge $3.98 below NLY-I – actually even more if we take the stripped price as TWO-C goes ex-dividend soon. Additionally, until NLY-I floats, TWO-C will pay a yield of 9.46% versus 7.21% for NLY-I. Since NLY-I floats 7 months sooner than TWO-C, it may pay a higher yield for these 7 months but this is no way compensates for the huge price difference and current yield difference. At least in my mind, TWO-C is extremely undervalued relative to NLY-I and has much more price upside besides a big yield advantage.
What is important to realize is that AGNCN, which already floats, is currently selling for $25.45 and its floating rate formula is little different from that of TWO-C. Thus, if short rates remain high in 1.5 years, you could see TWO-C move from $19.45 to around $24.00 in this short period of time which would still be undervalued relative to AGNCN. I assume TWO-C will never trade at the same price as AGNCN due to discrimination against smaller cap mREITs, but the gain will certainly be substantial.
And lastly, even against IVR-B, with IVR being a small cap mREIT, TWO-C is a much better value.
TWO Preferred Stock Safety (Not Much Different Than AGNC & NLY Preferreds)
As you could see from the above charts, the current and floating yields of TWO preferreds are simply way higher than those of the larger cap preferred stocks from AGNC and NLY. But is this justified? I think not and I have always outperformed the AGNC and NLY preferred stocks by being in smaller names like TWO or CHMI preferred stocks.
The reason I believe that TWO preferreds are almost as safe as AGNC and NLY preferreds is that they carry the same leverage. It didn't matter that TWO had a particularly bad last quarter because they sold 10 million shares during the quarter and leverage at the end of the quarter was actually slightly better (lower) than when it entered the quarter. So zero harm done to the preferred stocks.
In this environment, especially, where NAVs of agency mREITs have continued to fall, these agency mREITs are repeatedly issuing common shares to keep their leverage at typical levels. NLY has also issued common stock several times. So as long as these companies plan to issue common stock to raise cash to cover any losses they face, there really isn't much difference in which one you purchase. And I actually believe that TWO, with its significant investment in MSRs, is more sheltered from the current inverted yield curve than the other mREITs. And this yield curve inversion may well increase over the near term with the Fed likely raising short term rates further.
Summary
We first discussed a pair trade, buying TWO common stock and going short ARR common stock. Despite the fact that TWO has outperformed ARE over the last 3 years when they both became pure agency mREITs, TWO trades at a discount to book value of 19.30% versus only a 2.39% discount for ARR. I expect this gap to close, as I see no reason for it, and we can profit from their discounts moving closer together. Those interested in this pair trade should go long the same dollar amount of TWO as they short ARR.
Next, we talked about the agency mREIT preferred stocks that will either be called in 2027 or float in 2027. TWO-B is clearly the best here, with a current stripped yield of 9.95%, a floating rate yield using current LIBOR of 14.19% and a floating rate of 11.55% if LIBOR drops from its current 5.53% to 3.5%. It also trades at the biggest discount to par giving it the most capital gains potential. And if short rates plunge from here, you have call protection until 2027 such that you will continue to collect your 9.95% yield for 4 more years. Since TWO-B is more akin to a fixed-rate preferred at the moment, due to a long period before it floats, it looks outstanding relative to fixed-rate mREIT preferred stock ARR-C which yields only 8.37%. A swap from ARR-C to TWO-B looks like a no-brainer to me as you pick up 1.6% in yield.
Then we discussed the agency mREIT preferreds that will float in the next 1 to 1.5 years. In this category, TWO-C has the highest current yield, floating yield as well as the most price upside. If LIBOR remains where it is now, goes higher, or only drops a little, TWO-C should see a very big move up in price as it nears its floating rate date in 1.5 years. TWO-C is at least $2.50 undervalued relative to NLY-I in my opinion. I highly recommend a swap from NLY-I and/or AGNCO to TWO-C.
Not only are the TWO preferreds offering significantly better yields than NLY and AGNC preferred stocks, but also quite a bit better than the preferred stocks of IVR – IVR being a small cap (TWO is 2.5 times larger than IVR). So this further documents the undervaluation of TWO preferred stocks.
Lastly I made the point that although the yields on TWO preferreds are much higher than the preferreds of AGNC and NLY, I don't believe there is much difference in safety and so TWO preferreds are quite undervalued. This is because TWO operates at the same leverage level as AGNC and NLY and all mREIT preferreds have been issuing stock to remain around that leverage level. So even when TWO has a bad quarter, they sell enough common stock to keep leverage levels from rising. Last quarter they issued 10 million common shares. Agency mREITs are all about survival, and as long as they are all doing what is necessary to survive and make their preferred stock dividend payments, why not buy the most undervalued based on yield. Not only do TWO preferreds have much higher yields than NLY and AGNC preferred stocks but also have much more potential for capital gains with prices much lower than the prices of the NLY and AGNC preferred stocks.
Note – 20% of TWO preferred stock dividends are tax free and TWO preferred stocks will go ex-dividend soon on July 11th.