Producers ramp up maintenance prior to July 4th, slowing output
Texas bakes, New York still cool amid weather swings
Gas longs target $3 amid slow-burn rally
InvestingPro Summer Sale is on: Check out our massive discounts on subscription plans!
Geert Rouwenhorst, the Yale professor who grandfathered the theory of commodity index investing, used to get plenty of laughs from his audience when he'd tell them that many didn't know the correlation between pork belly futures and natural gas until they began barbecuing.
With the 4th of July coming up — the most popular U.S. holiday for grilling — it's perhaps opportune to remind our readers of the correlation between natural gas demand and the Independence Day celebration. A poll says nearly 70% of American grill owners hold home parties on this occasion, first barbecuing on the deck or backyard, then chilling indoors.
More than the gas used for cooking that day, what matters will be what's burned for power and air-conditioning use — not just on the 4th but through the rest of summer, as the holiday typically ushers in the warmest temperatures one would experience for the year.
While this summer hasn't hit its baking point yet across the United States, temperatures in Texas and other southern states have reached 100+ degrees Fahrenheit earlier than expected and heat is expected to start permeating the rest of the lower 48 States in the coming weeks, weather trackers say.
Gelber & Associates, a Houston-based energy markets advisory, told its clients in natural gas earlier this week that since this year's Independence Day celebration was in mid-week, "producers are front-loading maintenance to account for the holiday. As a result, about 1.5 bcf/d (billion cubic feet per day) of production has gone off line in advance as a part of their preparation."
Charts by SKCharting.com, with data powered by Investing.com
Gas Bulls Eyeing $3 Target
It has been an interesting time for natural gas, with bulls managing to keep the market in the positive for most of the month despite the mixed heat trends across the country,
With a near 18% gain for June, gas futures on the New York Mercantile Exchange's Henry Hub are headed for their best month in almost a year. The last time the market rallied more in a month was in July 2022, when it gained 46%.
In Wednesday's session, the hub's most-active settled at $2.668 per mmBtu, or million metric British thermal units. It began the month at $2.158 and went as high as $2.935 this week. A year ago, natural gas was as high as $9.66. Now, longs in natural gas are eyeing a return to $3.
A slide in gas prices over the past two sessions has raised concerns on whether the June rally on the Henry Hub will continue to fray.
Sunil Kumar Dixit, chief technical strategist at SKCharting.com, however, says the upside in August gas had not been broken, citing support first at $2.47, then $2.49 and finally $2.38.
Adds Dixit:
"As long as these support areas are not violated, resumption of the recent uptrend remains intact, with the targets being the psychological barrier of $3 first, followed by the 100-month SMA of $3.25 next."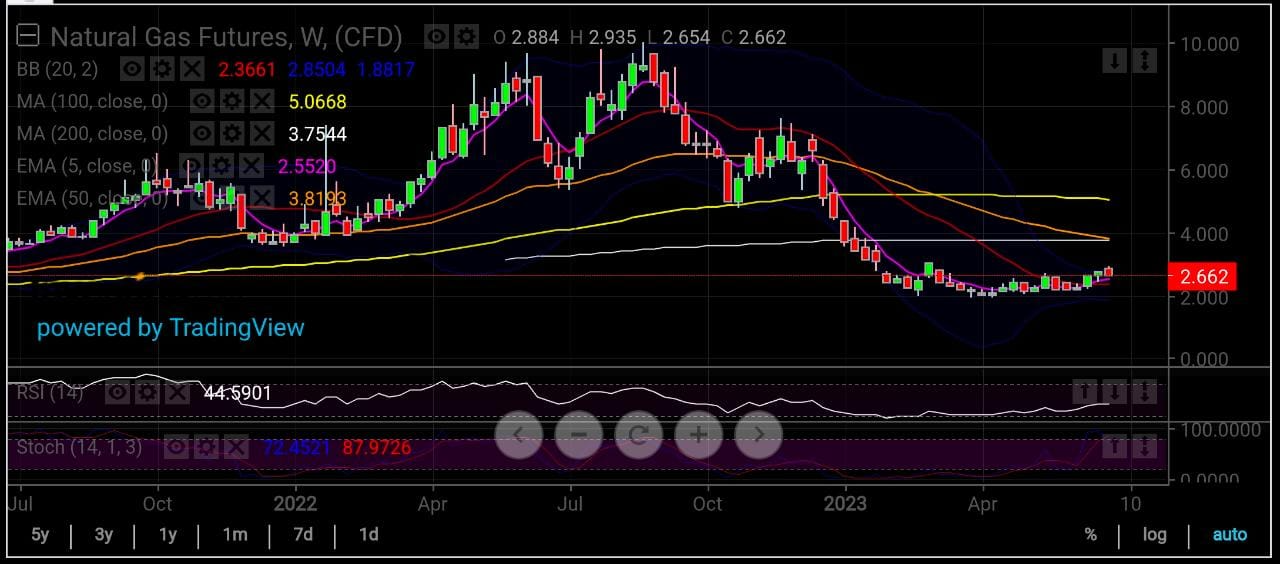 Slow-Burn Rally
It has been a slow-burn rally for gas given the temperatures extremities in the South versus the benign conditions of the Northeast; and LNG maintenance versus reasonably stout gas production and renewables generation.
While New York flirts with 70-80F temperature on most days, cooling demand is setting highs almost every day, particularly in Texas. This has sparked realization in the trade that higher price lows might be more common than new bottoms.The lowest Henry Hub's front-month got to this week was $2.647, versus the $2.136 bottom seen at the start of June.
Indicators on average U.S. air-conditioning demand, released Thursday by Refinitiv, the data arm of Reuters, showed there were around 65 CDDs, or cooling degree days, last week. That was close to the 30-year normal of 70 CDDs for the period.
CDDs, used to estimate demand to cool homes and businesses, measure the number of degrees a day's average temperature is above 65 degrees Fahrenheit.
Amid such calm are various contrasts.
Coal-to-gas fuel switching has been at record highs and will likely continue to be. Power burn has seen some reprieve due to slightly cooler forecasts, but especially over the weekend and the upcoming holiday, demand is likely to increase to highs of 42 bcf/d for the holiday.
Weather Fluctuations
Mickey Shuman, a senior meteorologist with Atmospheric G2, says a strong subtropical ridge driving a triple-digit heat wave in Texas and the southern U.S. in the short term will ease by early next week, causing temperatures to retreat to more seasonable levels.
But humidity levels will remain high, he adds:
"The focus of above-average heat is expected to shift to the western U.S. (for a change) during this time frame."
Meanwhile, a series of weak disturbances and associated rain chances are expected to support fluctuating, seasonable temperatures across the north-central and eastern U.S.
Steve Silver, senior meteorologist for Maxar, also notes that Texas' heat should see a break by the weekend, along with decreasing humidity levels and elevated wind generation. The heat will spread instead into the lower Midwest and South at the end of the week and increase in the Southwest and California.
Mobius Risk Management says the most important fundamental dynamic between now and when the market fully reconvenes post-holiday weekend "is the amount of natural gas being delivered to liquefied natural gas, or LNG, export facilities.
While the Sabine Pass LNG facility appears to be coming out of its month-long outage, offsetting changes at Corpus Christi the past couple of days have limited the impact on overall U.S. demand.
John Sodergreen, who writes a weekly note on natural gas from what he calls "The Desk", said:
"If we find ourselves in mid-July with feed gas levels still sub-12.5 bcf/d, then the market will renew its concerns on inventory constraints late this fall, and if the 14 bcf/d threshold is breached again like it was early this spring, then there could be early grumblings about the potential for a sub 3.85 tcf end of October."
Storage Update Beckons
The 3.85 tcf, or trillion cubic feet, refers to what could be total gas inventories in storage at any one time.
Ahead of a weekly update on gas storage due from the U.S. Energy Information Administration, a consensus of industry analysts tracked by Investing.com showed utilities in the country likely added 82 bcf, or billion cubic feet, to storage last week.
In the prior week to June 16, utilities added 95 bcf to storage.
If the estimated 82-bcf injection for the week ended June 23 is correct, it will be just a shade above the 81-bcf build seen during the same week a year ago and the five-year (2018-2022) average increase of 80 bcf.
The latest build would also lift total U.S. gas inventories to 2.811 tcf, or trillion cubic feet. That would be 25.5% above the same week a year ago and about 14.9% above the five-year average.
Eli Rubin of EBW Analytics points to underlying regional mismatch in storage trends relative to five-year norms, "and the increased westward flows have deflected bearish fundamental pressure further east as the Pacific region absorbed 42 bcf above normal since early April."
Rhett Milne of NatGasWeather.com weighs in:
"While Texas/ERCOT will experience impressive heat this week, surpluses will remain plump over 335 bcf. U.S. production has been at 101 bcf, but needs to decrease and combine with widespread heat if surpluses are to be reduced toward 200 bcf."
***
Get ready to boost your investment strategy with our exclusive summer discounts!
As of 06/20/2023, InvestingPro is on sale!
Enjoy incredible discounts on our subscription plans:
Monthly: Save 20% and get the flexibility of a month-to-month subscription.
Annual: Save an amazing 50% and secure your financial future with a full year of InvestingPro at an unbeatable price.
Bi-Annual (Web Special): Save an amazing 52% and maximize your profits with our exclusive web offer.
Don't miss this limited-time opportunity to access cutting-edge tools, real-time market analysis, and expert opinions.
Join InvestingPro today and unleash your investment potential. Hurry, the Summer Sale won't last forever!
Disclaimer: The content of this article is purely to educate and inform and does not in any way represent an inducement or recommendation to buy or sell any commodity or its related securities. The author Barani Krishnan does not hold a position in the commodities and securities he writes about. He typically uses a range of views outside his own to bring diversity to his analysis of any market. For neutrality, he sometimes presents contrarian views and market variables.